So I would like to introduce my history of skimboards.
This board is special for what it did to me and how I got it. So I wanted this skimboard so bad when I looked at my local surfshop in Monterey. My mother was able to give in and buy it for me for $160. This board was the start of my foam boards. This was the same board that whacked me in the head while skimming at Shipwrecks beach in Kauai. OUCH! Stitches on the second day there.
I picked this board up as a remembrance board. I had my the artwork done then reglassed it. I still have it. I only used it 3 times. It just sits in my room. My mom was the one brought me to Santa Cruz from Vallejo just to skim. I will always remember those times.
This is the nicest board I have. All carbon fiber wrapped. This is my current weapon of choice.
I picked up this board brand new for cheap. I had a friend "try" to do some artwork. Yeah...some kind of artwork. I ended up selling it. No need for it.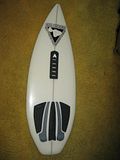 This is a one of a kind board. Only made in Maui. I love the shape and how it rides. I do not take it out unless the waves break right on shore. Board is amazing...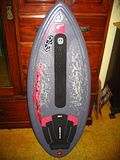 This was the last board I bought. It was made my a shaper in Santa Cruz. The board was alright. It was to small for me. Ended up selling this one too. It was all carbon wrapped also.