So today was great day that ended in disaster. So my GF, Anna, her friend, Dre, and I went to Bodega Bay for the afternoon. We had to hike to my favorite beach, Pinnacle Gulch.
I got there, the waves never showed up. I guess the best time is late summer like the rest of NorCal. So I just hung out and played around with the small waves.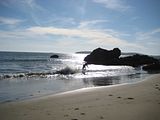 Also found a CRAB!
So at the end of the afternoon, I feel a tingling sensation on my toe. This is not the first time it happened. So I feel my body getting warmer. And BOOM...hives. I am not sure why I get them, but they pop out outta nowhere if I hurt my "bad" toe. We had to double time back to my apartment because I did not have my meds. It was my life and death situation for the week.
Results to: